Continuing Education Units

The Chair of the Continuing Education Committee is Sarah Choss.

MSHA is a Provider of Both ASHA and State Continuing Education Clock Hours (SCECH)
. Continuing Professional Development works in conjunction with ASHA and the State Board of Education in order to provide Continuing Education Units (CEUs) for our MSHA members.
ASHA CEUs and SCECH are always available at our annual conference.
All MSHA members are encouraged to participate in continuing education activities as a commitment to life-long learning, provision of state-of-the-art services and to maintain certification. An update of educational programs throughout the state can be found in each issue of the et cetera and on the MSHA website. One easy way to earn CEUs is to attend the upcoming MSHA Conference or the ASHA Convention Other options for earning ASHA CEUs are available on ASHA's website Additionally, specific information for maintaining and tracking ASHA CEUs is also available on the ASHA website. Not sure of the correct use of terms please see ASHA's Guidance for Correct Use of Terms: CEU, ASHA CEUs, CEU Course.
MSHA also co-sponsors ASHA CEUs for conferences and workshops offered by professional organizations that are not ASHA CEU providers. Please contact Sarah Choss for more information on ASHA Cooperative Agreements.
ASHA has two forms that can help you maintain your Continuing Education Units. The Verification of Attendance and the Certification Maintenance Record Keeping are on the ASHA website. FAQs regarding keeping track of your own CEUs.
♦Starting January 1, 2020, Clinical supervisors and CF mentors will be required to have 2 hours professional development in the area of Supervision post-certification. ASHA is offering an online webinar to help fulfill this requirement. Also, MSHA will be offering a 2-hour class on Supervision at the MSHA Annual Conference, March 24-26, 2022 at the Kellogg Hotel and Conference Center in East Lansing.

♦Beginning with the 2020–2022, certification maintenance interval, ASHA certificate holders will have to earn one of their 30 required certification maintenance hours (CMHs) in Ethics. MSHA will be offering a 1-hour class on General Ethics that will fulfill this new requirements at the 2022 MSHA Annual Conference.
♦
ASHA fees are $28.00 per year for ASHA Members and $38.00 for Non ASHA Members
♦You entitled to one free ASHA CE Registry transcript for each year you pay the CE Registry fee. After the one free transcript the cost is $15.00 for ASHA Members and $20.00 for non ASHA Members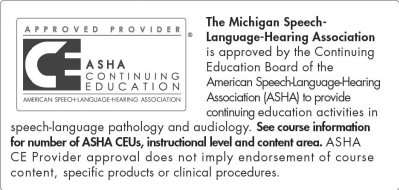 The Michigan Speech-Language-Hearing Association is approved by the Continuing Education Board of the American Speech-Language-Hearing Association (ASHA) to provide continuing education activities in speech-language pathology and audiology. MSHA is also approved by the Michigan State Board of Education to sponsor continuing education activities in speech-language pathology and audiology. ASHA CE Provider approval does not imply endorsement of course content, specific products or clinical procedures. The above promotional paragraph and ASHA CE logo are always included in promotional materials of activities offering ASHA CEUs.