The Michigan Speech-Language-Hearing Association is proud to announce Award Recipients:

MSHA Honors of the Association Application
MSHA Distinguished Service Award Application
MSHA Student Scholarship Application
MSHA Outstanding Clinician Award Application


2017 Honors of the Association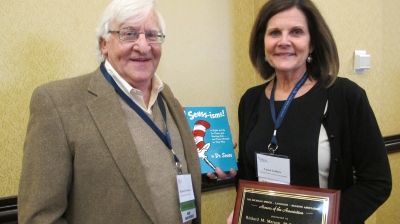 Richard M. Merson, Ph.D., CCC-SLP, Retired, Beaumont Health System. Rick has been a Speech-Language Pathologist for more than 35 years the last 27 of them at Beaumont Health System. During his tenure at Beaumont he developed the Beaumont Outcome Software System (BOSS), a precursor to the ASHA National Outcomes Measurement System (NOMS). His expertise on fluency disorders and other areas of neurogenic communication impairment and his teaching have reflected the most recent research and highest quality of evidence-based treatment. Rick has served as President on the MSHA Executive Board and is currently serving on the MSHFoudation Board as Treasurer. Our warmest congratulations to Rick on being awarded Honors of the Association!

2017 Student Scholarship Awards: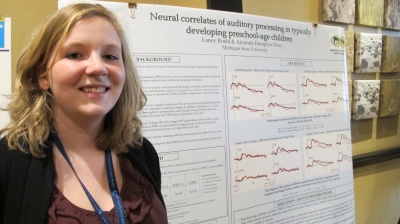 Laney Roehl, B.A., Graduate Student at Michigan State University Her B.A. is in Linguistics, from MSU, and she plans to graduate in 2018 with a Master's in Communicative Sciences and Disorders. Laney began her studies in speech-language pathology motivated by her personal experience with her sibling who has a communication impairment. This has fueled her passion and commitment to this field and she has worked with young children through her placement in an Early On program at an ISD. She is also very much interested in research and she currently works in the Brain Systems for Language Lab at MSU where she studies the neural activity in children who stutter. Her outstanding work ethic and academic achievements were clearly cited by her colleagues. She is the quintessential example of a clinical researcher in the making, according to one professor. Congratulations Laney and best of luck to you in your future!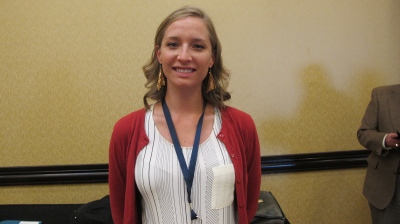 J. Whitney Neal, M.A., Graduate Student at Wayne State University She hopes to complete her Ph.D. in December of 2018. She completed her M.A. from Eastern Michigan University. Whitney is an outstanding student who wishes to pursue relevant clinical research especially on the topic of Traumatic Brain Injury (TBI). She hopes to teach and is interested in the topic of neurogenic communication disorders as well as TBI. Whitney was praised as an outstanding writer and one who will collaborate well with faculty and students and is dedicated to finding new approaches to help individuals with communication impairments.

Our deepest thanks to the Prentke-Romich Company for providing these funds. For 50 years the Prentke Romich Company has been leading the way in giving a voice to those who cannot speak for themselves.

2017 Student Poster Session Winners: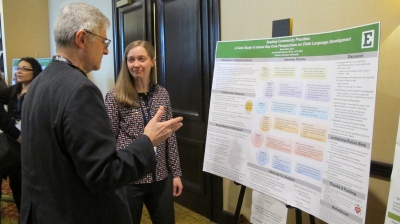 Sara Acton, M.A., Eastern Michigan University, Seeking Community Priorities: A Case Study of James Bay Cree Perspectives on Child Language Development



Brittany Barnes, B.A. and Anna Poggensee, B.S., Western Michigan University, An Analysis of Aphasia Education Internet Resources for Spanish Speaking Clients and Families

Thank you to Psi Iota Xi, Michigan chapters Eta Sigma, Zeta Theta, Theta Tau, and Eta Omicron, for their support of these awards. Thanks to our Michigan colleague Char Holcomb, and others, for continuing to support our students in this manner.
Honors of the Association Recipients
(in alphabetical order)

Harold Bate
Susan Fleming
Kathleen Pistono
Margot Beckerman
Gerald Freeman
Eugene Popielec
Dorothy Billings
Dorothea French
Carl Powley
Mary Blair
Catherine Furbee
Doris Proctor
H. Harlan Bloomer
John Gaeth
Nick J. Quarto
Susan Carlson
Sandra O. Glista
Mary Jeanne Rintelmann
Kathyrn Boyer
Mary Ellen Brandell
A. Bruce Graham
Hildred Gross
Dale Omar Robinson
Elaine Ledwon-Robinson
Sandra Briggs
Beverly Jaynes
Frank Robinson
C. Rebecca Brown
Mary Kennedy
Michael I. Rolnick
Anna Carr
Ronald Laeder
Ralph R. Rupp
Michael R. Chial
Gary D. Lawson
Linda Seestedt-Stanford
John Clancy
Elizabeth Lockwood
Linda Lou Smith
Mary Rose Costello
Theodore Mandell
Maureen Staskowski
Ruth Curtis
Daniel Martin
William Stephenson, Jr.
David Daly
Keith Maxwell
Lizbeth Stevens
Alvin Davis
Jan McCosky
Ann Thorne
Leo V. Deal
Robert M. McLauchlin
Charles Van Riper
Jessimae Deuel
Clarence Maedor
L. Jean Walsh
Dorothy Dreyer
Elsie Edwards
Richard M. Merson
Nickola W. Nelson
Sheila Powell Ward
Timothy G. Weise
Frances Eldis
Robert Erikson
Courtney Osborn
Herbert Oyer
Ellen Fairbrother
Paulette I. Piirainen

Distinguished Service Award Recipients
(in alphabetical order)

| | |
| --- | --- |
| Richard Baldwin | Jerry Johnson |
| Susan Howell Brubaker | David F. Katt |
| Mary Rose Costello | Nancy Kaufman |
| Ruth Curtis | Richard Merson |
| Leo V. Deal | Kathleen Pistono |
| Dorothy E. Dreyer | Gerald Rice |
| Frances Eldis | Ralph R. Rupp |
| John Bryson Eulenberg | Norbert Edwin Smith |
| Sandra Oslager Glista | John Stevens |
| Matt Green | Lynn A. Sweeney |
| Edward Hardick | |