2015-2016 MSHA Ethics Committee Members

Michelle Bailey
Cary Cekola
Mary Peterson
Robin Pollens
Katherine Rigley-Rowell
Are you wondering if your next step is ethical according the ASHA or MSHA Code of Ethics? Are you concerned about an ethical question related to your work? The MSHA Committee on Ethics can assist you. Our role is to provide education, discussion, or resources for you to consider. If you have a question regarding professional ethics you can use the MSHA Committee on Ethics Consult Form. No Identifying information is required except the method by which you'd like to receive a reply. You may send your completed consult request to the Committee at mshaethics@gmail.com
Please note we are not a place to file a complaint or report. If you have significant concern about a colleague you should report them to the ASHA Ethics Board at www.asha.org/about/ethics/ or the Michigan Department of Licensing and Regulatory Affairs.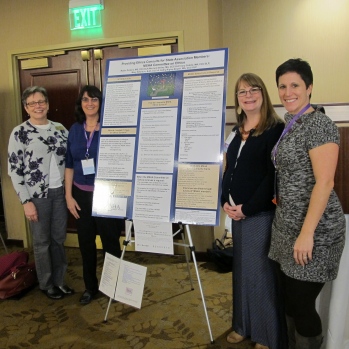 The MSHA Ethics Committee at the 2014 Conference in Kalamazoo (L-R) Mary Peterson, Robin Pollens, Cary Cekola and Kathy Rigley-Rowell.

Have you heard? A revised ASHA Code of Ethics has been approved.
Do you know . . .
when the revised Code of Ethics (2016) becomes effective?
if the revised Code of Ethics applies to you?
that the revised Code of Ethics has 15 brand-new rules?
what constitutes making a false financial or nonfinancial statement?
that you are required to self-report professional discipline that you receive, like that from a state licensing board or a board of education?
Success occurs when preparation meets opportunity. So, here's your opportunity to find out the answers to these questions as well as other helpful information about the new Code of Ethics.
Resources

ASHA Code of Ethics Resources

http://www.asha.org/News/2014/Consensus-Statement-on-Productivity-and-Revenue-Conflicts-in-Health-Care-Settings/

An Ethical Scenario: Early On Ethics
ASHA Code of Ethics

ASHA Ethics in School Based Practice
FAQ School Based Related Ethics
Social Media Information (Compiled Januray through March 2013)
This Issues in Ethics statement is a revision of Confidentiality (originally published in 2001 and revised in 2004). The Board of Ethics reviews Issues in Ethics statements periodically to ensure that they meet the needs of the professions and are consistent with ASHA policies.
http://www.asha.org/policy/ET2013-00332.htm
Social media privacy law enacted
http://abcnews.go.com/blogs/headlines/2012/12/california-first-to-endorse-comprehensive-social-media-privacy-law/
ASHA
http://www.asha.org/associates/Social-Media-Etiquette-for-Professionals/

State legislation preventing employers from asking for social media passwords from employees
http://www.ncsl.org/issues-research/telecom/employer-access-to-social-media-passwords-2013.aspx

National Labor Relations Board website about social media and employer practices
http://www.nlrb.gov/node/5078

Social Net Speech is Protected, New York Times article January 2013
http://www.nytimes.com/2013/01/22/technology/employers-social-media-policies-come-under-regulatory-scrutiny.html?pagewanted=all

Brian Wassom's blog and treatise on social media law. Brian Wassom is an attorney with Honigman, Miller, Schwartz and Cohn, LLP in southeast Michigan. He lectures regionally about social media and the law.
http://www.wassom.com/wosml

Hot Topics

ASHA summary of self-referral and anti-kickback regulations
http://www.asha.org/practice/reimbursement/medicare/regulations_sum/

Nine upsetting dilemmas
http://www.asha.org/Publications/leader/2012/121120/9-Upsetting-Dilemmas.htm

April 2013 ASHA News in Brief-many ethical issues represented in this article
http://www.asha.org/Publications/leader/2013/130401/news-in-Brief--April-2013.htm

End of Life Issues
http://www.foxnews.com/us/2013/11/06/facing-grim-prognosis-indiana-hunter-paralyzed-in-fall-from-tree-chooses-to-end/

http://www.asha.org/slp/clinical/endoflife/

What Would You Do?
http://www.asha.org/Publications/leader2013/131101/In-Private-Practice--What-Would-You-Do.htm?utm_source=asha&utm_medium=enewsletter&utm_campaign=leaderlive110413

Neurobiologic research seems to put to rest that APD is not an condition and a legitimate diagnosis. A difference in neurologic development is a "medical" condition. Check out the article reference below for more details:
Boscariol, et al., Brain & Development, 2011, Volume 33, Issue 10, Pages 824-831