The 2018-19 Chair for the Student Affairs Committee is Callan Gavigan. Questions, concerns or comments are always welcomed. Please contact Callan at mshastudaffairs@gmail.com

Licensure Information:
Eligibility for Educational Limited SLP License (only for those whose education did not include 9 months of supervised clinical experience).
-Graduate from an accredited master's or doctoral speech-language pathology educational program or a program that has been deemed substantially equivalent.
-Provide proof of acceptance for training in a clinical situation supervised by a licensed SLP.
-Submit the SLP Educational Limited license application found at http://www.michigan.gov/documents/lara/Speech_Language_Pathology_Application_11-9-16_543584_7.pdf with the $170.00 fee.
-A fingerprint report and criminal background check are required. Fingerprints must be taken using the instructions and ID number that are sent to the applicant after the license application and fee are received.
Licensing Guide
LARA Licensure FAQs
To check on the status of your license
Michigan-specific FAQ's, guidelines and requirements for Speech-Language Pathologist and Audiologist
Contact LARA
ASHA Minority Student Leadership Program (MSLP)
The MSLP is open to students who wish to cultivate their leadership skills, interact with leaders in the professions, and learn how their association works. This program has prepared more than 650 students from racial/ethnic minority backgrounds to serve in leadership positions. MSLP alumni have answered the call to serve as leaders by volunteering in more than 80 positions on boards, committees, and councils as well as serving as editors, judges, and program or application reviewers. MSLP alumni are also serving their communities at large by working in schools, health care, and academia in the United States and abroad.

To learn more about the Mnority Student Leadership Program

Applications are being accepted through May 7, 2018.
University Information:
University Programs in Michigan
The Michigan Speech-Language-Hearing Association is Proud to Announce the Recipients of the
2018 Student Scholarship Award
Casie Jill Shannon, B.A., Graduate Student at Eastern Michigan University
Danae Brownell, B.S., Graduate Student at Michigan State University
Our deepest thanks to the Northern Speech Services and the Michigan Speech-Language-Hearing Association for providing these funds.

Congratulations to the 2018 Student Poster Session Winners:

Promoting Educators Implementation Writing Instruction for Students with Complex Instructional Needs: A Preliminary Study, Audrey Nitzel, Central Michigan University

The Development of Rhyme Procession in Preschool Age Children, Valerie Rose, B.A., Michigan State University.
Thank you to Psi Iota Xi, Michigan chapters Eta Sigma, Zeta Theta, Theta Tau, and Eta Omicron, for their support of these awards. Thanks to our Michigan colleague Char Holcomb, and others, for continuing to support our students in this manner.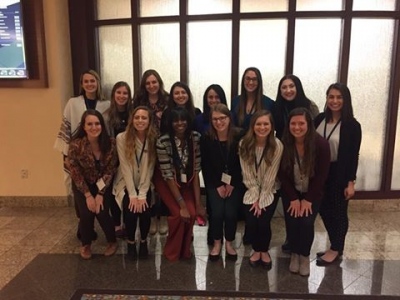 Congratulations to Michigan State University, winners of the M & M (Most Student MSHA Members) Award

Resume Guidelines presented by Gordon Krainen at the 2013 Student Session.

ASHA Information:
National Student Speech-Language-Hearing Association (NSSLHA)
ASHA Student Information
ASHA SLP Certification Standards
How to Apply for ASHA Certification in Speech-Language Pathology
Clinical Fellowship FAQs